Hello 2007
two weeks since a post. getting further behind in capturing my quotidian life resulted in blog paralysis. In an effort to jump-start my blog mojo, here goes. In no particular order, my so called life:
I
finished a Dulaan hat. Does it look too pointy? like a yurt? (unintentional.) It does look better on a head than here and it is warm. Lamb's Pride worsted (doubled) and Bulky. US8 circular and DPNs. 88 stitches. many inches of k1p1 ribbing, then a purl row then the usual every other row decreases in stockinette.
I chose my own christmas presents: A sewing machine and a new iron. A decent basic sewing machine with one key accessory suggested by
Jessica
--- a floating presser foot for sewing zippers in knitwear. Not that I have actually sewn a zipper on knitwear yet.
But I might soon. Cambridge Jacket is nearing
completion. The pieces have been seamed, except for the sleeves. Why? Because there's too much fabric under the armpit. I seamed one and it looked terrible. I'm mulling over solutions that don't require me to knit new sleeves. I think I can seam it up tighter and neater, then machine stitch and trim the extra bulk out of the inside. Makes me not a knitting purist perhaps but so it goes. Will let you know if I succeed.
My new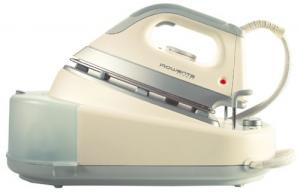 iron is a
Rowenta
. As Zach says, it's not just an iron, but an Iron Experience. So much fun I voluntarily ironed Franz's shirts and when I ran out I pressed my jeans and Zach's pajamas.
When I tried to iron in the kitchen the wondrous steam kept setting off the smoke detector.
But ironing downstairs in the family room became more entertaining because...
I surprised
The Nerd
with a wii. An Ironing Experience is even better when you can watch your husband and son bowl and golf. More fun perhaps while I still held the high score in bowling of 183. When husband finally figured out how to wii-bowl and scored 241, well, I cheered and I didn't.
My first (with the new machine) sewing FO was a pair of pants for Franz. Click on the nerdly link in above paragraph for photo. These have been a UFO for about 10 years. An old neighbor wore casual colorful pants while puttering around his yard. Franz desired such a pair. I started making matching pants for Franz and Zach. What happened? hellifIknow. They sat unfinished in my box of fabric. The garage sale sewing machine I was using stopped working. Fixable -- but not by me -- it was given away courtesy of craigslist. I did not finish the matching pair for Zach as they are sized for a three year old. Zach is relieved as he declared the green paisley fabric a crime against fashion.
In the let's get organized department, I spent a productive day (while the guys went skiing) organizing paperwork. Included recycling and shredding much paper. Our taxes in 1998 and 1999 were very complicated; the supporting paperwork was several inches thick. Keeping the quarter-inch thick copies of the actual returns, I shredded the rest. Statute of limitations and all that, right? I tend to be a packrat. To keep things in control, I try to picture a 60 year old Zach trying to plow through everything before settling our estate. So, I ask myself: Is this really something he will find interesting to discover then?
I felted a gauge
swatch for the Tartan Jacket into a DPN organizer.
Got the idea from a Berocco pattern found on
The Worsted Witch blog
. Of course my real-life organizer doesn't look as pretty, but it works. The only possible negative side effect was that Franz could see just how many DPNs I've accumulated in just over a year of knitting. So it goes.
I tested
a recipe for Cook's Illustrated for a Rustic Plum Tart. Or, as the email from the magazine called it: A Plumb Cake. What's in a name. It was yummy and I will make it again.
I rendered some lard. Jamie and Mitch surprised me with a gift of leaf lard. Jamie and I had been talking about this hard-to-find, hip pie crust ingredient at Thanksgiving. She found it at the Madison Market from a local
coolandgroovy farm
. It was easier and less smelly to render than some accounts warned. Haven't made a pie crust with it yet, but will soon.
I made granola. Zach is allergic to soy products. Well, actually all legumes
which pretty much changed our mostly vegetarian ways, but especially soy. This means I have to read labels carefully and cook most foods from scratch --- soy protein is added to just about everything these days. Think that's a good or even a benign thing?
Think again
. Granolas without soybeans are few and far between. The only one without soy that we like is a blueberry granola from the PCC. However, it has flax. Lots of flax. All that flax does not make my digestion very happy. So we attempted to create our own. Of course I planned on writing down the recipe I improvised but... Let's see if I can remember. Thick-cut oats, bulk organic rice-crispy-like granuals, sunflower seeds, brown sugar, honey, canola and a pinch of salt. tossed together and toasted at 400 degrees for 45 minutes, stirring every 15 minutes. Cooled, then tossed with freeze dried blueberries and some soy-free protein powder. It's pretty good. goes really well with yogurt.
I'm still mulling over opening an etsy shop to
unload
offer up my handpainted yarns. Erika just made some
nice socks
with some. But there's so much nice yarn already in etsy stores...
And I've been mulling over the Six Weird Things About Myself meme. Almost have it narrowed down to six. Maybe next week.
Happy New Year!